As the weather gets windier and colder, flu and cold season kicks into gear. I get a little obsessive (wipe down the shopping cart like crazy, wash my hands numerous times a day and gulp down my immune boosting green smoothies). Yet no matter what I do, I'm bound to get one cold a year.
I recently made this all-natural cold and flu remedy to prepare for when the germs start spreading. I keep it in the fridge and the first sign of a cold or flu, I just scoop out a few tablespoons, add hot water and enjoy this delicious and soothing tea.
Lemon: High in vitamin C, which keeps the immune system strong and neutralizes the free radicals in your body. This reduced the inflammation and swelling.
Ginger: Helps you sweat out the toxins in your body, which is helpful when you have a cold or flu. Ginger is also helpful for settling upset stomachs, dizziness, nausea, vomiting and cold sweats.
Honey: Soothes a sore throat, making it an effective and natural cough suppressant. This improves the body's ability to fight infection and decreases the risk of fevers. The natural sweetness of honey also balances the tartness of the lemon and the ginger's spice, giving honey, lemon and ginger tea its soothing flavor.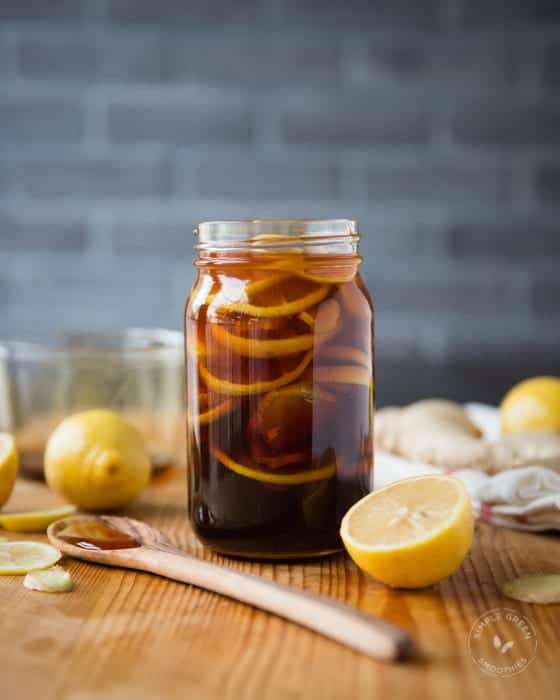 LEMON, GINGER, AND HONEY IN A JAR
You can make this immunity boosting, body soothing concoction ahead of time and store in the fridge. I usually keep my mixture for about two months, and then make a new batch.
Ingredients
---
2 lemons (thoroughly cleaned)
2 piece of fresh ginger  (about the size of your pointer and middle finger)
Raw honey
12 oz mason jar
Directions
---
1. Slice lemons and ginger.
2. Place the lemon and ginger slices in the mason jar, alternating layers of each.

3. Slowly, pour honey over the lemon and ginger. Allow the honey to sink down and around the lemon and ginger slices. Fill jar to the top with honey and seal tightly.

4. Store in the refrigerator. Over time, the mixture will start to turn into a loose jelly.
5. When you are in need of some soothing tea, scoop 2-3 tablespoons into a mug full of hot water—be sure to scoop whole pieces of ginger and lemon. Allow to steep for 3-4 minutes and sip away.
By Authors of Simple Green Smoothies
Jen Hansard and Jadah Sellner are the founders of Simple Green Smoothies. They are the hosts of the wildly popular 30-Day Green Smoothie Challenge and are on a mission to help busy people rethink their lifestyle choices by establishing healthy habits that are easy to maintain. Hansard lives in Brooksville, FL, and Sellner lives in Walnut Creek, CA.  Join their rawkstar community by visiting www.simplegreensmoothies.com
Photo Credit Lindsey Johnson